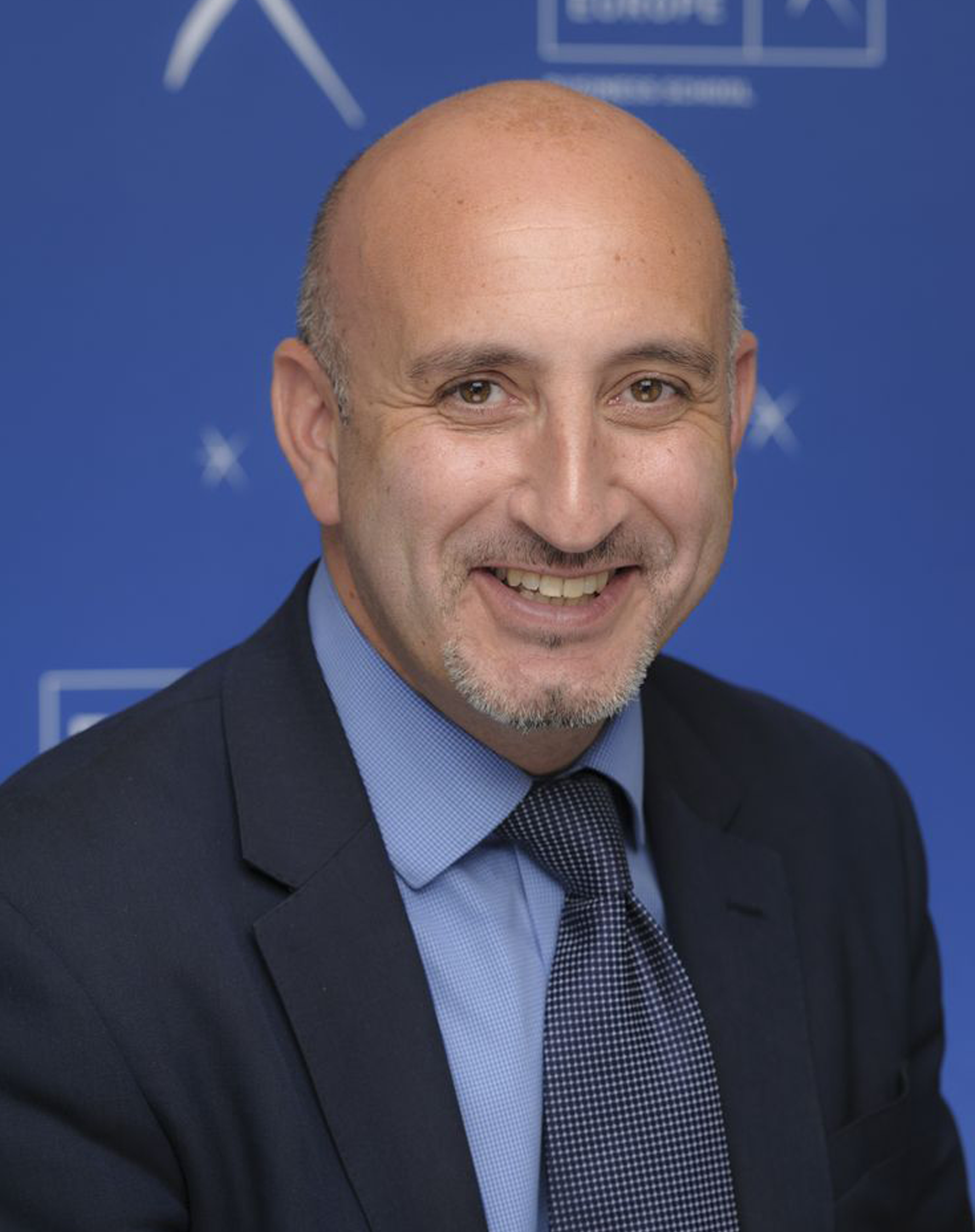 It is over three years since the U.K.'s EU referendum and we wait still for a clear Brexit outcome. Will the U.K. leave under the terms of the EU Withdrawal Bill or under terms renegotiated with a new (post-Johnson) administration? If parliament returns hung and a coalition government formed, will matters progress to a second referendum and what will the options be? Will this be "confirmatory" or "final say"? Might not even the U.K perform a volte-face and revoke Article 50? Of course so much hinges on the outcome of the December 12th General Election. But what we do know is that Brexit is already a disruptive force and that, in any form, there is meaning or consequence for business schools and their stakeholders both in the U.K and France.
Battle stations
Here in the U.K., preparations are being made for a Brexit in which freedom of movement of persons comes to an end and in which the legal status of EU nationals studying and working in the U.K. is changed. Our business school community is readying itself with necessary caution that all this will come to pass with Johnson still in power and able to pass his bill through a reconfigured Parliament. That bill delivers an EU exit in the first part of 2020 and the end of a so-called 'transition period' on December 31st, 2020. Nonetheless, questions remain about the fixity of such timetable and the future state of U.K.-EU relations. Specifically, uncertainty persists over the extent to which any future free trade agreement or partnership agreement might involve a deal or set of protocols relating to educational co-operation. As such, our institutions are gearing up for significant changes, the scale of which, are not yet fully understood. But what are the sector's real fears and what impact is being felt?
Brexit fears
At the moment, UKHE can recruit the best European academic talent with relatively little restriction. Over 20,000 European nationals work in our HE sector on a visa free basis. Amongst these we count outstanding academics and professionals making great service to our institutions. In many disciplinary fields, this supply line is vital to our educational offer and reputation. On the other side of the staff-student relationship, we currently attract EU nationals – some 140,000 at latest count – to study here with little obstacle. This number makes up about one quarter of our total international 'on-campus' student population and adds both quality and diversity to our international student population. With EU nationals treated as if they were home students, they pay lower fees and study on U.K based degree programmes without visas. They can secure loan financing for their U.K. based studies (as if they were U.K. nationals) and enjoy a right to stay and work in the U.K. after graduation. On top of this we have 20,000 Brits studying elsewhere in Europe for a degree at lower continental fee levels and a similar number of British exchange students funded each year under the Erasmus+ mobility programme. For younger persons, this is one of the primary symbols of the U.K.'s EU membership.
Additionally, our research strategies are linked intrinsically to EU funding regimes and programmes. We presently enjoy full participation and access rights to Horizon 2020 with an excellent funding and participation rate. EU funded research projects and initiatives have been the source of vast funding for research in U.K. institutions and are playing a vital role in enabling and scaling collaborative research across European borders. Business schools are at the heart of many projects and consortia. In complement to this, the EU's structural funds have enabled many universities and their business schools to develop infrastructure and capacity with significant financial injection.
Some of these established benefits look to be at risk. Under the current EU Withdrawal Bill, terms of access for EU students and workers will change. EU domiciled students would be treated like other international students entering the U.K. They would face the higher fees typically paid by international students and new visa requirements. Restrictions on post-study work would kick-in with the end of free movement. A two-year post-study work visa would be available but deeper historical rights enjoyed by EU nationals would be lost. Academics and professionals taking up work here would require visa sponsorship, which amounts to an administrative nuisance and extra cost to all parties. Unless a 'Participation Deal' be struck, we would also be left outside of Erasmus+ and forced to buy in or to set up new bilateral exchange schemes. The same would apply to the Horizon 2020 research programme or, more accurately, to its successor. Encouragingly, the Johnson Government has insisted that it will deliver on such a package and maintain the U.K's involvement as an associate member or third party but this would have to be negotiated.
A different variant of Brexit would change this. If we were to follow the Swiss example for illustration, the prospect would be of bilateral protocols maintaining some of the current freedoms and benefits enjoyed under EU membership. This might include: the freedom of movement for young persons for the purpose of education and training and deals on tuition fees, rights of residence, post-study work entitlements, research fund access, Erasmus+, and mutual recognition of qualifications and diplomas.
So is it hurting?
Although the Brexit process has yet to come to conclusion and the 'end state' remains unclear, it is clear that its effects are already being felt. UUK Survey results indicate that 50% of our institutions have experienced a negative change in demand from EU students, more than 55% have experienced a change in the level of collaboration with overseas partners, and almost 60% have lost existing or potential staff members to overseas institutions.
There are EU nationals on faculty and in administration teams across our institutions upset at developments and concerned over their future status. The "settled status scheme" introduced by the government has allayed certain fears but the introduction and management of that scheme has attracted widespread criticism. Applications for new posts have changed in profile for many institutions with a relative decline in applications from continental European academics. Some of our students have been confused about the extent and timing of rule changes that might effect them, especially as a whole series of supposed "independence day" dates have come and gone. Worries across UKHE about future Erasmus+ and Horizon 2020 participation, have been linked to more immediate effects. Organisations across Europe have indicated that uncertainty about the U.K.'s continued involvement in European programmes is already causing problems. These include sharp falls in secured funding and requests for U.K. institutional/researcher involvement in Horizon 2020 project bids and applications.
With wider eye, plans for graduate hiring by top employers have been downgraded since 2016. One annual survey by research firm High Fliers has found an average 10% annual cut in graduate recruitment by private sector employees in the years subsequent to the EU referendum. The requirement for firms to ride out Brexit uncertainties and fund expensive contingency plans has also led to short-term suspensions on investment decisions into management development training and/or commissioned research. More significantly perhaps, Brexit is an assumed factor in the U.K.'s weakening growth rate and there is evidence of Brexit-influenced relocation decisions. This may not amount to a 'Brexodus' of firms and jobs but there is building impact on the U.K. economy and graduate jobs market.
Conversely, one quick win for the U.K. sector has been the fall in the value of the Pound on international currency markets. This has had the effect of making U.K. study more affordable, which some refer to as a Brexit premium. Under this positive influence, application and registration rates have pretty much held up in global terms. Indeed, set against the so-called Brexit penalties are the Brexit dividends as seen or understood by its supporters. In a post-Brexit landscape, U.K. institutions could anticipate higher per capita fee income from EU students and a potential reduction in the burden of student loan financing previously open to EU nationals, for which recovery rates are staggeringly low. For sure, U.K. institutions have proven their ability to continue to attract international (non-EU) students in high number despite relatively high fee levels and visa requirements. The logic runs that if the product or service is good enough, demand will endure. In any assessment of Brexit and its impacts, the strength and resilience of the U.K. sector must be taken into full account.
Across the Channel
French business schools look on and position along with rest of the international sector. Fears over collaborative links, joint programmes and research with U.K. partners have been expressed with inevitable uncertainty as to what Brexit actually will mean. Many have been focused on their U.K market strategies and the volatility presented to their U.K alumni. For those with developed U.K. operations/ties, the rights and entitlements of students on, exiting from, or pipelined for rotation and hosting programmes, have been a natural focal point along with the changing regulatory landscape. Eye too is being applied to the potential for U.K. business schools to do a "Brexit hedge" and put down roots in France or the wider continent. For example, Queen Mary University's business school has started offering its flagship business master's degree in Paris as well as London, working through the University of London Institute in Paris. One thing is for sure, in the highly competitive international education sector, talent, research funding, and market share is fought over keenly. The spirit of friendship is coupled with a curiosity as to whether or not Brexit might not ultimately play to the advantage of French business schools and their international counterparts.
Simon Mercado,
Dean of ESCP London Campus
About ESCP Business School


Founded in 1819, ESCP Business School has produced generations of leaders and entrepreneurs. With its six urban campuses in Berlin, London, Madrid, Paris, Turin and Warsaw, ESCP Business School 's truly European identity allows it to offer a unique multicultural education style in the field of business and a global view in International Management issues. Each year, ESCP Business School welcomes over 6,000 students and 5,000 executives from more than 120 different countries, providing them with a comprehensive offer of Management courses and specia- lised programmes (Bachelor, Master, Executive MBA, PhD and Executive Education). ESCP Business School is included among just 1% of business schools in the world that possess the Triple Crown Accreditation (AACSB, AMBA and EQUIS). www.escpeurope.eu – Follow us on Twitter @ESCPeurope